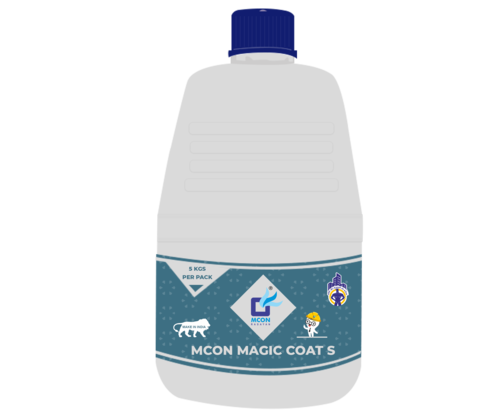 Transparent Water Repellent
Price And Quantity
Product Specifications
Industrial ,Hous hold

Woody
Product Description
MCONMagic Coat Sis Transparent Water Repellent which is of premium quality and is very effective coating that is based on silicone. The all purpose, colorless, water proof coating can be applied on the wall surface. The look of the surface is not changed, but it comes complete water repellent. Not just new, this breathable and water resistant coat can be applied to old, but well painted substrates. This microbial organism growth resistant Transparent Water Repellent can be applied to mineral based stone structures, mineral plasters, mineral paints, concrete blocks, brick structures, ceramic and structural tiles.
Features & Benefits of Transparent Water Repellent (MCON Magic Coat S)
The coat penetrates into the masonry structures

It enhances the high alkalinity resistance

It has strong water repellent characteristics

It dries nder atmospheric conditions


Method of Application of Transparent Water Repellent (MCON Magic Coat S)
Surface Preparation:
Start with cleaning the surface with a scrubber or wire brush, in order to completely remove loose particles, dust, dirt, etc., followed by degreasing the surface with solvent. The next step is to repair the spalled concrete portion by saw, that requires cutting of extreme edges of the repair area to a depth up to 10 mm to prevent feather edging and achieve a strong bond.
Coating Application:
When the surface of the application is in a touch dry state, use a stiff nylon brush to do a first coat. The coating must be done well to ensure that even small undulations are filled. Once coated, it must be left for 2 days to cure in normal atmospheric condition.
Coverage:
It can be used as a waterproofing coating, and one litre can be applied in 50 - 60 sq.ft. in single coat.
PACKING
1 liter, 5 liter, 20 liters
SHELF LIFE
MCON Magic Coat S in its original packing has a shelf life of 12 months. One must store the pack at room temperature, i.e. 25 degrees Celsius.
Technical Information
| Properties | Results |
| --- | --- |
| Appearance | Clear to light yellow liquid |
| Base | Silone-Siloxane |
| Specific Gravity | 0.8 ± 0.05 |
| Drying Time | 4 - 6 hours |