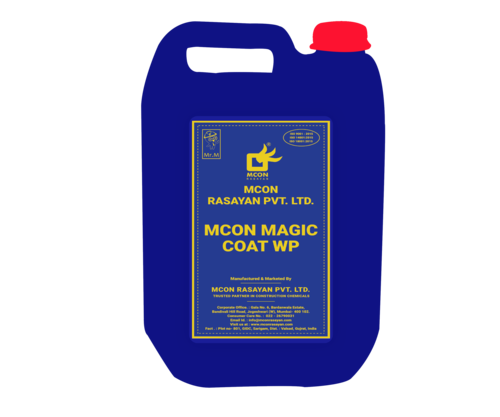 Single Part Water Proof Coating
Price And Quantity
Product Specifications
Industrial ,Household

Wall Putty
Product Description
Single Part Waterproof Coatingis a waterproof coat which is to be blended with cement to create a mixture that can be used for making surface that is completely waterproof. This acrylic base polymeric coat is flexible and binds well with concrete. It gives concrete breathing properties, crack bridging properties, weathering durability and resistance to water.
Areas of Application- Single Part Waterproof Coating:
Foundations, basements and lift pits.

Terrace Gardens.

Sunk portion of bathrooms, balconies, toilets, etc.
Features & Benefits of Single Part Waterproof Coating
Single Part Waterproof Coating bonds well with cement concrete and improves its waterproofing properties.

The mixture becomes rich, because of the presence of 45% high acrylic polymer solid content.

It can resist abrasion.

It protects the surface from water penetration, salt and carbonation.

After curing, it is non-toxic and can come in contact with drinking water.

It is non-corrosive to metals, like iron and steel.

It conforms to DIN 1048 standards of water permeability with zero permeability of concrete post two coats upto 15 bar water pressure.



Method of Application:
Waterproofing
Surface Preparation
Use either a scrubber or wire brush to clean the surface covered with loose particles, dust, dirt etc. Use solvent if needed to degrease the surface.

Use a saw to repair the spalled concrete, cut the extreme edges of the repair location to at least 10 mm to prevent feather edging and give a strong bond.

Clean the concrete surface to eliminate contamination. Do grit blasting or light scrabbling to roughen the surface.

Saturate the surface with potable water to prime the concrete substrate. Before applying, remove excess water.
As a Waterproofing Coating
For a waterproofing coating, blend MAGIC COAT WP and Cement in the ratio 1:1 by volume. Blend both material for two-three minutes to prevent air entrapment. Slowly add Magic Coat WP into cement to achieve a consistency. Use a brush to apply two coats of the blend in a duration of four to six hours on the concrete substrate. Use a protective screed to cover the coating.
Coverage:
1 Kg. Magic Coat WP can cover 50-55 sq.ft. in 2 waterproofing coats.
Packing:
Shelf Life:
1 year in original packing, if properly stored.