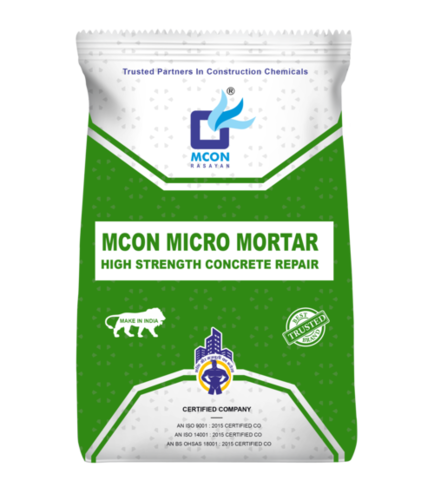 Micro Concrete
Price And Quantity
Product Specifications
Grey

Repair & Rehabilitation
Product Description
Micro Concrete is a cement based construction material that can be applied in thin layer as a coating for different substrates, from normal flooring, tiles to wood. The major utilization of this is done where repair is needed. MCON Micro Mortar is filled at the places where concrete is damaged, for instance beams, columns and structures. This flowable, easy to work with micro concrete can also be used to jacket RCC columns, cast concrete slabs. This material is a ready to use dry powder that just requires additional water for final usage. The offering is very effective and makes the fixation firm and durable. Micro Concrete is packed in bags of sturdy material and is available in 25 kg quantity.
Composition of Micro Concrete
It is composed of materials, like cement, aggregates & additives.
Features & Benefits of Micro Concrete
Pumpable - Can be applied into restricted locations.

Flowable – It is a flowable mortar, which means it does not require compaction.

Durability – The repaired sections become highly durable and compatible to parent concrete.

Strength – It develops high compressive strength.

Early reinstatement – Quick strength gain assists in early reinstatement and removal of shuttering.
Method of Application of Micro Concrete
Surface preparation:
The initial process of applying MCON Micro Mortar is surface cleaning, followed by removal of scale and corrosion on the exposed corroded steel. MCON STEEL 2K or MCON STEEL ZRP can be applied on cleaned rebars and MCON STEEL RR can be applied for rust free bars. The surface must be dry before the application of MCON Micro Mortar. Saturate the surface with water, but in case of old concrete substrate one coat of MCON BOND EP bonding agent is recommended.
Mixing:
MCON micro mortar can be mixed in a PAN mixer. For a 25kg bag of micro mortar, add 3.75 to 4 liters of water in the PAN Mixer. Micro concrete powder must be slowly added under continuous mixing. Continue blending for 2 minutes. Add balance quantity 15-20% of mixing water and again belnd for another 2-3 minutes to create a homogeneous, uniform, free flowing mix that is free from lumps.
Coating Application:
Pour the blended MCON MICRO MORTAR into a shuttering. Let the repaired concrete to cure for at least 7 days before removing the shuttering.
Coverage:
1.3 m2 per bag at 10 mm thickness

13 l per bag 2200 kg. per cubic meter
Packing :-
25 Kgs Pack
Trade Information
Cheque, Cash in Advance (CID), Cash Advance (CA)

50000 Per Week