Mcon Super Coat Powder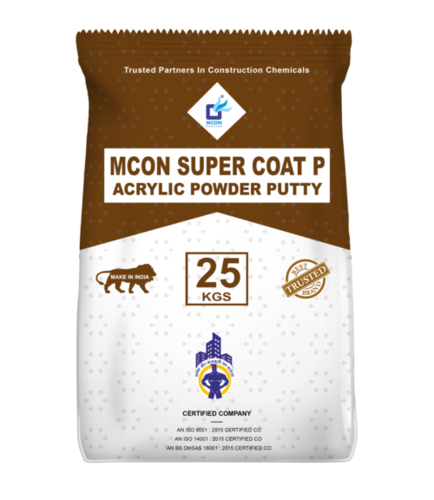 Mcon Super Coat Powder
Price And Quantity
Product Specifications
Powder

Repair & Rehabilitation
Product Description
Mcon Super Coat Powder
Product Description :-

MCON SUPER COAT POWDER is an acrylic polymer based water resistant wall putty in powder form, which requires precise quantity of water to make putty for substrate. This is especially used to seal the pinholes and the blowholes getting exposed on concrete/plastered surfaces and to provide smooth even surface for next coating. It can be internal and as well as external surfaces. It gives more adhesion strength and increase the life of paints.
Areas of Application :-

Use on both precast and concrete structures like sand cement plaster,

level brick work and block work, exposed concrete.

Ideal For Application on ceilings and gypsum plastered surfaces

AC sheets and Plywood

Gypsum boards

Can also be for redecoration on firm, old painted areas.
Features & Benefits :-
Synthetically bound ready to use compound for inert filler.

Only precise quantity of water to be added.

Ensures use on all common types of building interiors.

Excellent adhesion & thixotropicness.

Due to good bonding property it is more durable.

Excellent finishing and easy to apply.

Provides smooth, silky and feather edged finish to substrate to facilitate better texture of paint.
Method of Application :-
Surface Preparation :-
Make sure that the surface is absolutely clean, dry and free from dust, grease and foreign .

There should be a time gap of at least 10 days before MCON SUPER COAT

POWDER application is done on newly plastered surfaces.

Ensure that the surface is fairly even.

If concrete surface is to be painted, it shall be washed with a water jet at 3000 psi and all loose concrete should be getting removed and all pin holes and blow holes should get opened.
Mixing :-
MCON SUPER COAT POWDER is a ready to use. Take 2.5 to 3 parts of powder to 1 part of water by volume and mix it thoroughly for 10-15 mins.
Coating Application :-
Apply the prepared with putty knife from bottom to top by ensuring complete filling of holes with putty and feather edged finish. The coating should be about 0.5 mm thick.
Second coat of MCON SUPER COAT POWDER depends up on the exposed surface after first coat (generally both coat do not exceed 1mm) and leave the surface to dry overnight. The drying time of each coat should be 4 hours, but will vary from surface to surface.(depending upon atmospheric conditions).
Finishing :-Make sure that the has fully covered the substrate and dried. If putty surface is rough, surface should be made smooth by rubbing suitable emery paper on it. Ensure that the paper is fine and does not cause scratches on the MCON SUPER COAT POWDER coating area.
Painting :-The smooth surface finished with MCON SUPER COAT POWDER does not require any putty or primer before paint application. Just apply any paint as per the manufacturer's standard specification.
Coverage :-1.2 to 1.5 m per kg when at a thickness of 0.5 mm.
Shelf Life & Storage :-4 months in original packing if stored at room temperature i.e.25C
Packing :-25 kg. plastic lined sacks.