Mcon Steels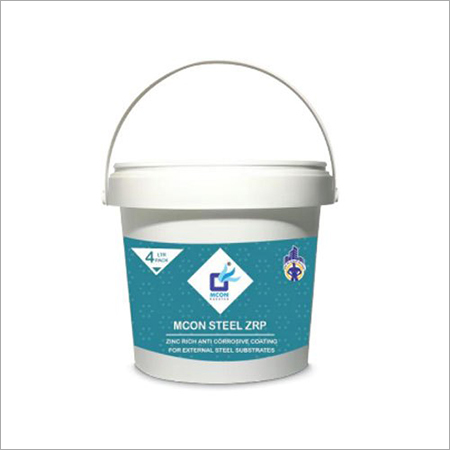 Mcon Steels
Product Description
Mcon Steel ZRP is functional as a component polyamine. This is enriched with metallic zinc and provides outstanding performance in the corrosive environment. It also provides Cathodic protection to the metallic base. The said compound is resistant to UV light as it has UV absorber. Mcon Steel ZRP gives the undercoating protection to steel surface. It can be used without any fear in the corrosive atmospheric environments. The said product is useful for power plants, bridges, offshore environments, refineries, mining equipment, buildings, and general structural steel.
MCON STEEL ZRP is a two component polyamine cured zinc rich epoxy
coating. MCON STEEL ZRP is a two pack system enriched with metallic zinc
to provide outstanding performance in highly corrosive environment.
Metallic Zinc imparts Cathodic protection to the base metal. It resists photo
degradation by UV light as it contains UV absorber. MCON STEEL ZRP has
high zinc content to provide steel with protection of undercoating.
Areas of application :-
Structural steel and piping exposed to a wide range of corrosive
atmospheric environments up to very high.
Recommended for offshore environments, refineries, power plants,bridges, buildings, mining equipment and general structural steel.
Features & Benefits :-

High solids ensures better protection.
High zinc content for the best of anti corrosion properties.
Designed for severe corrosive environments.
The product conforms to the compositional requirements of SSPC paint
20, level 2 and ISO 12944/ISO 20340 and the zinc pigments comply with
ASTM D520 type II zinc dust.
UV Resistance - It has excellent UV resistance and adhesion.
New binder technology shows superior performance in adhesion /
cohesion
Factory made product with consistent quality.
Fast dry-to-re coat and dry-to-handle.
Trade Information
Cash on Delivery (COD), Cash Against Delivery (CAD), Cash in Advance (CID), Cheque, Cash Advance (CA)

Bucket