Mcon Steel ZRP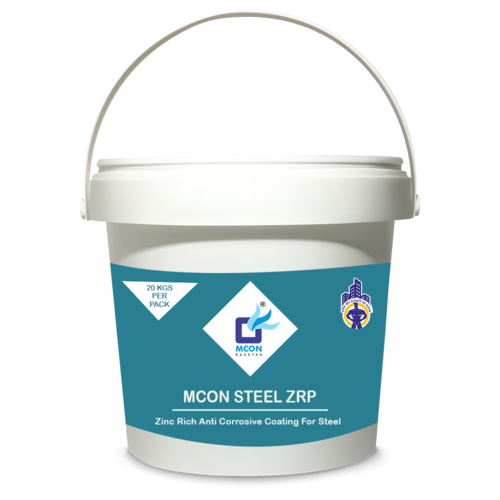 Mcon Steel ZRP
Price And Quantity
Product Specifications
Other

High solids ensures better protection
100%

ZINC RICH ANTI CORROSIVE COATING
Repair & Rehabilitation

Solid
Designed for severe corrosive environments.
Product Description
Zinc Rich Primer is an epoxy coating that is enriched with metallic zinc and is a two component polyamine cured. This construction chemical performs well in highly corrosive environment as well. The base metal will be protected by the metallic zinc added into it. The UV absorber in it enables it to resist photo degradation by UV light. The high zinc content in it protects steel.
Areas of Application of Zinc Rich Primer
It is suitably applied to structural steel and piping that are exposed to many corrosive atmospheric environments. It is ideal for use in refinery, steel structure, mining equipment, building, bridge, power plant, offshore environment, etc.
Features & Benefits of Zinc Rich Primer
It is designed for providing better protection in corrosive environments. The zinc pigments added comply with ASTM D520 type II zinc dust and the all compositional requirements of ISO 12944/ISO 20340 and SSPC paint 20, level 2 are met. It is UV and adhesion resistant. It dries fast, so that it can be quickly re-coated and handled.
Coverage:
10 to 12 m2 per pack of 4 Ltr.
Packing:
4 Ltr pack