MCON Steel 2K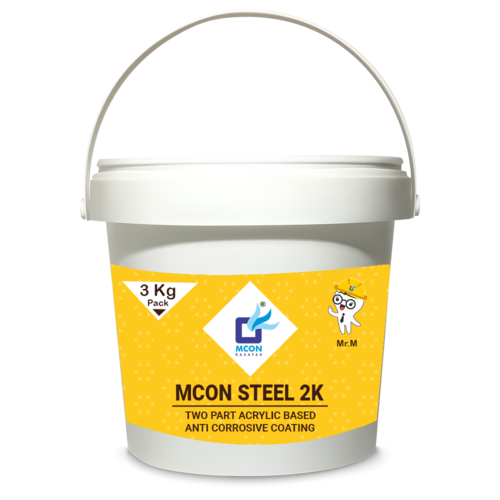 MCON Steel 2K
Product Specifications
Improves bond strength of steel with Concrete.

Other
Approved as per IS 13515: 1992

TWO PART ACRYLIC BASED ANTI CORROSIVE COATING
Brush application

ANTI CORROSIVE COATING
Yellow

H. T. wires / cables / strands etc. in prestressing job.
Product Description
MCON Steel 2K is a two part anti-corrosive industrial coating which is used for the reinforcement of metallic components. This coating solution is added with acrylic polymers which results in improved bonding strength of the structural steel with concrete to enhance the rigidity of the building. The offered constructional chemical MCON Steel 2K can be used over pipelines, reinforcement bars, high tension wires, cables and many more. It does not require special tools and can be easily applied with the help of brush.
MCON STEEL 2K is anti-corrosive coating for structural steel and reinforcement. It is a rust treatment which stabilises steel reinforcement and creates moisture - repelling coating of good mechanical stability, abrasion resistance, bond strength and excellent anti-corrosive properties. MCON STEEL 2K has excellent bond with the steel with long term anti corrosive properties.
Areas of application :-
Coating of reinforcement bars in new - R.C.C. structures to have a long
term protection from Wet weather.
Steel-pipeline, structures, bridges, arches, etc. especially in marine
environment.
H. T. wires / cables / strands etc. in pre stressing job.
Features :-
High alkalinity of coating and high flexural strength and extra adhesion
due to specially engineered polymers in MCON STEEL 2K , gives long
term protection against corrosion to steel
Improves bond strength of steel with Concrete.
Treatment can be carried out at site. Coated bars do not suffer bond loss
when embedded in concrete unlike epoxy coated bars which are known
to suffer substantial bond loss.
Self-curing.
Trade Information
Cash on Delivery (COD), Cash Against Delivery (CAD), Cash in Advance (CID), Cheque, Cash Advance (CA)

2 kg. powder + 1 liter liquid.
Approved as per IS 13515: 1992