MCON SRP 400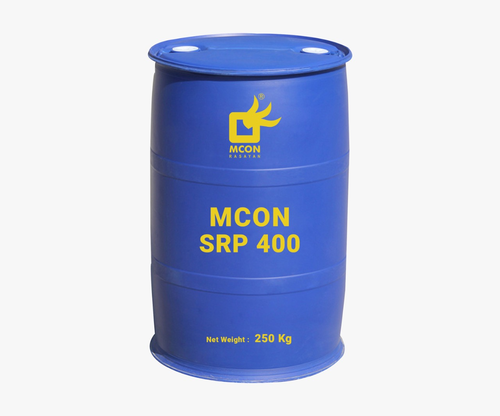 MCON SRP 400
Product Specifications
Light Yellow Liquid

Admixture
Liquid

High slump retention to give flow able concrete even after 150 minutes and more
Aqueous Solution of Poly Carboxylate
Product Description
MCON SRP 400 is a superplasticizer cum slump retainer for free flowing
concrete in floors, slabs, foundations, slender components with dense
reinforcement, walls and columns and other structural elements. It is a
high range slump retaining admixture which is based on the next
generation of polycarboxylate technology. Concrete produced with
MCON SRP 400 admixture achieves significantly higher early age strength
than first generation polycarboxylate high range water-reducing
admixtures. MCON SRP 400 admixture also strikes the perfect
balance between workability retention and setting
characteristics in order to provide efficiency in placing
and finishing concrete.
Features :-
Improved dispersion properties with execellent workability.
Improved durability.
Very High Early strength.
Faster turnover of forms due to accelerated early strength
development.
High slump retention to give flowable concrete even after
150 minutes and more
Used in fast track construction, RMC Plants.
Minimizes the need for slump adjustments at the jobsite.
Reduces finishing labor costs due to optimized set times.
Areas Of Application :-
High Early strength concrete upto M 60 Grade
Ready mixed concrete
Precast concrete
Pre stressed concrete
Pumped concrete
Trade Information
Cash on Delivery (COD), Cash Against Delivery (CAD), Cash in Advance (CID), Cheque, Cash Advance (CA)

250 kgs. drum