Mcon Ready Plaster Render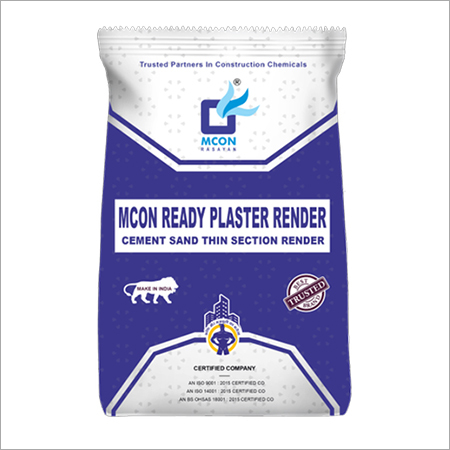 Mcon Ready Plaster Render
Product Description
Mcon Ready Plaster Render
MCON Ready Plaster Render is a cement sand fiber reinforced, ready to use
render for internal & external surface corrections purpose. It is convenient,
easy to use, strong and binds better to its substrate. This product is
composed of good quality cement, properly selected aggregates, Fibers &
additives. Its well graded aggregates which are clean and silt free ensure
that the plaster has a very cohesive and smooth finish. The waterproofing
and bonding polymers give the plaster a better bonding with water tight
characteristics. MCON Ready Plaster Render is easy to use as it can be
applied with trowel.
Areas of application :-
Thin Plastering on block work and concrete substrates in new
construction.
External and Internal leveling application for repair and rehabilitation
works.
Features :-
Crack free & firm surface that preserves beauty of building for longer
time.
Factory made product with consistent quality.
Very less rebound loss.
Ready to use, only clean water to be added at site.
Better bond than conventional cement based mortar
Improved labour productivity hence reduces costs
Moisture resistant - Offers excellent resistance to moisture ingress.
Good mechanical strength
Leveling of Walls prior to tiling to make good undulation upto 10 mm.