Mcon Magic Coat Pu (Antiroot)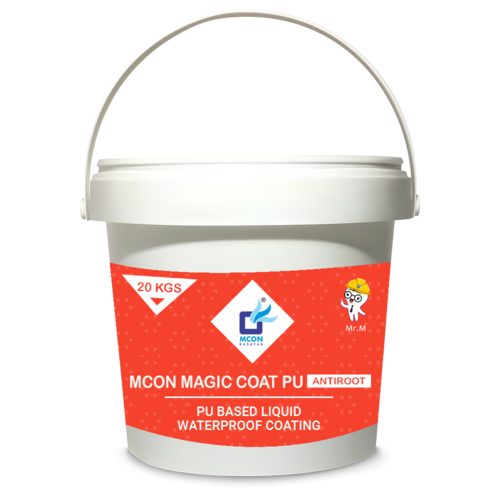 Mcon Magic Coat Pu (Antiroot)
Product Description
Mcon Magic Coat Pu (Antiroot)
Mcon Magic Coat PU Antiroot is cold applied liquid Waterproof membrane, specially designed from a Blend of special resin and rubber, reinforced with Special water repelling fillers, minerals stabilizers and gelling agent. masonry and concrete walls, bathrooms, basement, bridges, decks, metal surfaces etc.
Features :-
Mcon Magic Coat PU Antiroot is a highly elastic product, and cures to a rubber like Membrane capable of with standing severe cases of expansion, contraction and deck movements .
Highly resistant to oxidation, UV light and ozone because of unique additives used in compounding it. It does not crack.
Mcon Magic Coat PU Antiroot is more durable than normal asphalt coating and last longer than most other coatings .
Superior wetting and adhesion properties ensure durable bond and resitance to peeling, chipping , And/or separation and a longer life.
Has the unique property of adapting itself over the irregular contours of the deck and forming a Waterproof and impervious blanket.
Single component , cold applied requiring no mixing or heating; Saves labour costs.