Mcon Magic Coat Flexi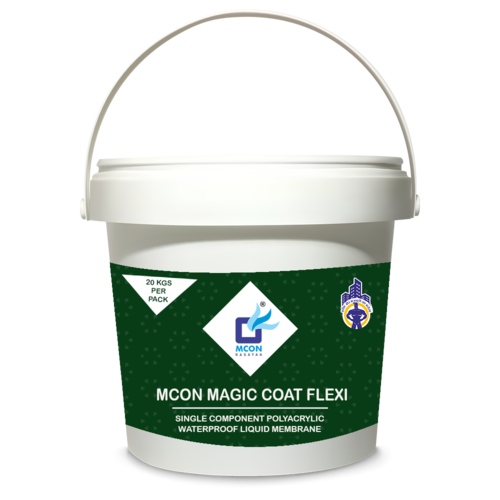 Mcon Magic Coat Flexi
Product Description
Mcon Magic Coat Flexi
MAGIC COAT FLEXI is a single component, modified poly-acrylic, liquid applied coating that is composed of specially developed polymers, properly selected and graded fillers. It cures by reaction with atmospheric moisture to give a tough elastomeric waterproof membrane. MAGIC COAT FLEXI is elastomeric in nature and has good resistance to weather and sunlight.
MAGIC COAT FLEXI has excellent flexibility and bonding with concrete designed for protection of all types of thermal insulation.
Where to Use :
Foundations, basements & lift pits.
Terrace Gardens, Terraces.
Protection of insulation on Pipes & Air conditioning ducting , etc;
Car Decks, Podiums.
Sewage Works & Sunken portions.
Sunk portion of bathrooms, toilets, balconies, etc.
Features & Benefits :

Elastomeric On that accommodate cracks up to 2 mm with an elasticity of 100-150%.
Low water permeability excellent resistance to ingress of water.
Adhesion excellent adhesion to concrete and masonry surfaces.
No curing required.
Elongation at Break - The elongation of the unreinforced system after
7 days cure at 68F (20C) when tested against BS 2782 or similar test method is typically 90%.