Mcon Magic Coat 2K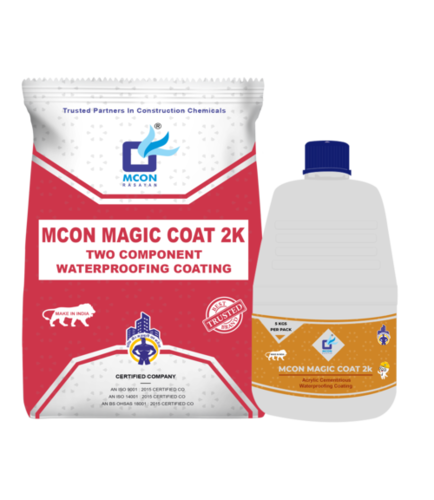 Mcon Magic Coat 2K
Product Description
Mcon Magic Coat 2K
MAGIC COAT 2K is a two component modified acrylic polymer based cementitious waterproof coating system, which on mixing and hardening provides excellent water resistant barrier. It offers extremely high resistance to both positive and negative pressures. MAGIC COAT 2K has excellent flexibility, breathing properties, water resistance, crack bridging properties, weathering durability, and resistance to growth of microbial organisms.
Features & Benefits :-

Elastomeric elastomeric flexible coating that accommodate cracks up to 2 mm with an elasticity of 40-50%.
Low water permeability excellent resistance to ingress of water.
Adhesion excellent adhesion to concrete and masonry surfaces.
Eco-friendly Non-toxic with low VOC content.
Certified as a potable water safe coating for waterproofing of water tanks.
Areas of Application :-

MAGIC COAT 2K must be applied to new or old concrete substrates that are structurally sound.
Excellent as a waterproof coating for bathrooms, kitchen sinks, balconies, etc.
Ideal as a coating for waterproofing of chhajjas, canopies, terraces etc.
As waterproof coating on internal sides of domestic water tanks.
Good for waterproofing of sloped roofs.