Mcon Lw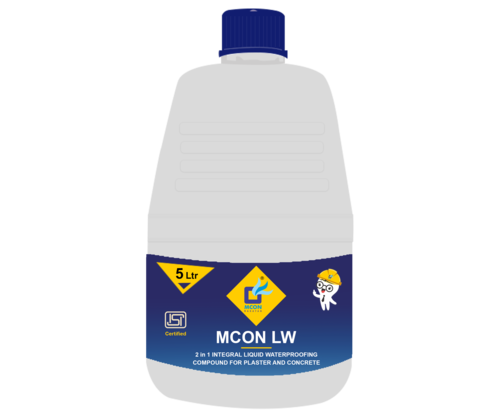 Mcon Lw
Price And Quantity
Product Specifications
Product Description
Mcon Lw
MCON LW is an integral, high performance waterproofing additive based on high performance polymers, which reduces the permeability throughout the depth of concrete. MCON LW when mixed in concrete reacts with the free lime during the hydration process to form a hydrophobic coating on the pores and voids of concrete which reduce the capillary action. This minimises the absorption of water. MCON LW causes considerable reduction in capillary pores within the concrete. MCON LW helps in reducing Permeability & improving concrete durability.
Features & Benefits :-
Durability Increases durability by improving waterproofing of concrete.
Strength The setting time and compressive strength of the concrete remains within the specification limits.
Shrinkage Reduces shrinkage crack development in plaster & concrete.
Workability Improves workability of freshly mixed cement concrete.
Ensures perfect watertight structure.
Permeability It reduces the permeability as it disrupts the capillaries within concrete
Reduce mortar dropping, when used in plaster.
Chloride free.
Areas of Application :-
Basements
Roof slabs and screeds
Water tanks & water retaining structures
External plastering
Bathrooms and balconies
Sumps and drains
In mortar during Brick bat coba application