Mcon Bond Apl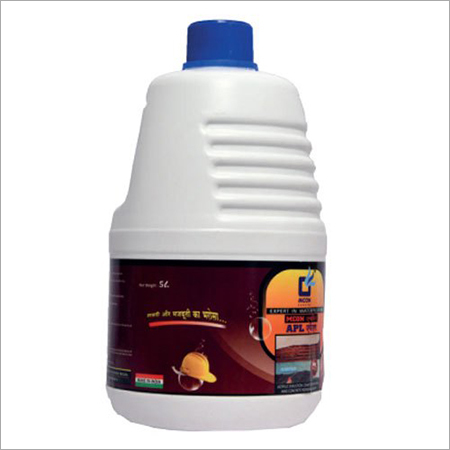 Mcon Bond Apl
Product Description
The Mcon bond apl is useful for floors, beams, chajja, columns, slabs, parapets, etc. This is suited for waterproofing of small roof terraces, bathrooms, toilets and lift pits, balconies. It is useful for bonding of new concrete and is suited for masonry stone work, stones & marble bedding and plastering fixing of slip bricks. Mcon bond apl is useful for external rendering. It has a weatherproof as well as frost resistant make. This is functional as a bonding slurry coat that allows for excellent adhesion to several building substrates. The compound is useful for preventing peeling as well as scaling.
Mcon Bond Apl
MCON BOND APL is an acrylic polymer based bonding agent from selected synthetic copolymers to meet various application needs. It provides a strong bonding coat to protect and repair RCC and steel structures.
Areas Of Application :-
For concrete repairs - Spalled concrete of floors, columns, beams, chajja, slabs, parapets, etc.
For waterproofing Small roof terraces, sunken portions of toilets & bathrooms, chajja & lift pits, balconies
As a bond coat For bonding of new concrete to old concrete, masonry stone work, plastering fixing of slip bricks, tiles, stones & marble bedding.
For plastering on RCC Surface without hacking as a hacking aid.
As external rendering Weatherproof & frost resistant render.
As bonding slurry coat for pinhole treatment on concrete surface.
Advantages :-
Excellent adhesion to most building substrates.
Improves flexural, tensile, and thin section fragility of cementitious
systems.
Allows breathing, thus preventing peeling and scaling.
Reduces chloride salt penetration in marine environment.
Improves bond strength with steel.
Resists water pressures up to 5 bars.
Gives a tough, hard wearing surface with effective waterproofing.

Self-curing.
Is non-toxic and thus can be used for coating structures storing
potable water.
Trade Information
Cash Against Delivery (CAD), Cash on Delivery (COD), Cash Advance (CA), Cash in Advance (CID), Cheque

Asia