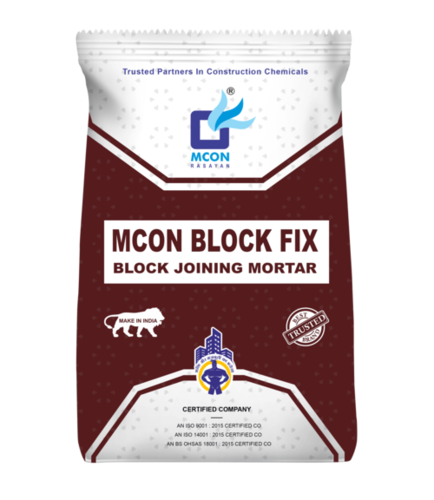 Block Jointing Adhesive
Price And Quantity
Product Specifications
MCON

Repair & Rehabilitation
Product Description
Block Jointing Adhesive is a pre-mixed block jointing mortar, mainly applied on the indoor and outdoor walls made of AAC blocks, concrete blocks or fly ash bricks. This is a bonding agent is a mixture that contains water, fine aggregate, cement, lime and special additives. This helps to bind bricks, stone or other stone masonry together. The bonding with the substrate makes it firmer and sturdier. The hardness that is attained after the application of the mixture creates the fixation and is highly durable. The polymer modified adhesive mortar is better than conventional jointing mortar in terms of jointing thickness, as the former is to applied in 3-6 thickness and the later is to applied in 12-18 mm thickness.


Features & Benefits of Block Jointing Adhesive


Customers when buying from us can be assured of the consistent quality, better output, no need for water curing, reduced cost, improved labour productivity, minimum chances of leakage, and good mechanical strength.